Research & Testing
RUC EXPLORATIONS
With guidance from the state legislature, the Washington State Transportation Commission began exploration of RUC in 2012.
In 2018 and 2019, the WA RUC Pilot Program conducted a statewide pilot with over 2,000 drivers. This pilot was an important step in understanding if and how a RUC would work in Washington and how it would impact drivers.
Watch the video:
WHO WERE OUR PARTICIPANTS?
During the year-long pilot, participant drivers representing

diverse backgrounds (gender, race/ethnicity, and household income), vehicle types, and geographic locations

gave valuable input and insights into how the various mileage reporting practices worked for them.
They informed us of the impact the RUC pilot had on their budgets and time. They also shared their advice to elected officials, supporting a gradual phase-in of a RUC program.
That research informed a set of

16 recommendations

from the Washington State Transportation Commission and WA RUC Steering Committee that laid the groundwork for a RUC transition in Washington.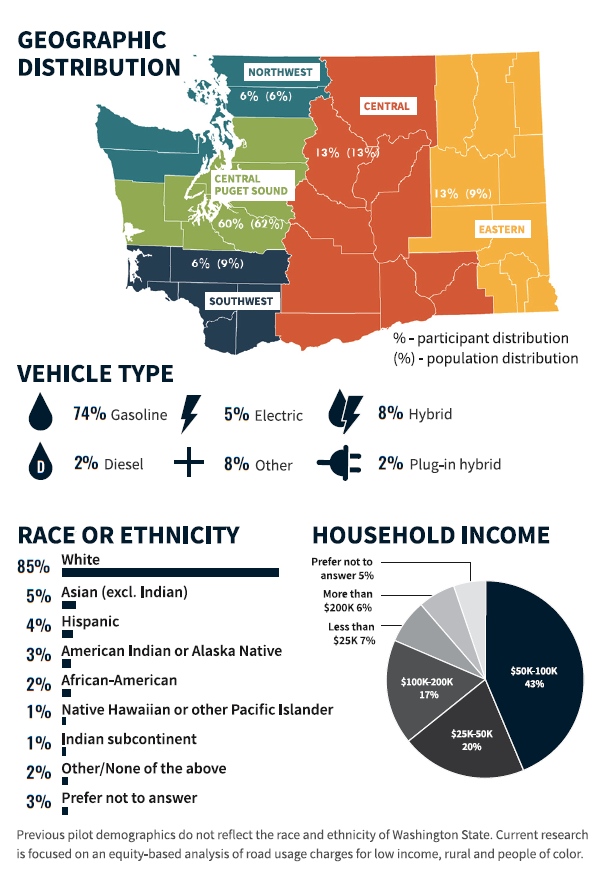 The top concerns pilot participants shared:
Privacy and data collection
Compliance and administration costs
Fairness and equity
Travel between states
Operational viability
TAKE A DEEPER DIVE
On January 13, 2020, the Commission transmitted their final report on how Washington can begin a transition away from the state gas tax and toward a road usage charge system to the Governor, State Legislature and the Federal Highway Administration.
CURRENT RESEARCH: FORWARD DRIVE
The Washington State Transportation Commission applied for and received funding from the U.S. Federal Highway Administration's Surface Transportation System Funding Alternatives program. This funded the Forward Drive research program beginning in October 2020, which was informed by the WA RUC Final Report.
During the first stage of Forward Drive, the Commission explored various policy and program options and their projected revenues while taking into consideration the adoption of more fuel-efficient vehicles over time, the potential permanent impacts on how and when people drive due to the COVID-19 pandemic and impacts that may arise as vehicle automation progresses.
The second stage of Forward Drive began in November 2022 with the rollout of a series of mini-pilots to explore RUC implementation issues regarding user experience, cost effectiveness of the program, and program fairness for all drivers. Learn more about the 2022-2023 mini-pilots.
Want to learn even more about RUC? Visit these pages with detailed information and documentation: